"Nrithya Nivedhan" - Supplication through the medium of dance
Bharathanatyam, one of India's ancient classical art form of dance manifests its true beauty through the offering of oneself to god as a humble prayer through the medium of dance. The concept of Nrithya Nivedhanam has been passed down from generations of Gurus of Bharathanatyam that the learning of this divine art form is always considered very sacred and spiritual.
Nrithya Nivedhan school of dance aims at propagating the art form of Bharathanatyam to be very sacred and divine. Dancing this divine art form of Bharathanatyam is a great refresher for the body, mind and the soul. It elevates one's spiritual consciousness through focus and concentration. It is also about dancing for the gods, about the gods and with the gods.
I feel humbled and passionate to be part of this journey to transfer such knowledge to the next generation!
- BHUVANA VENKATESH
The Artistic Director.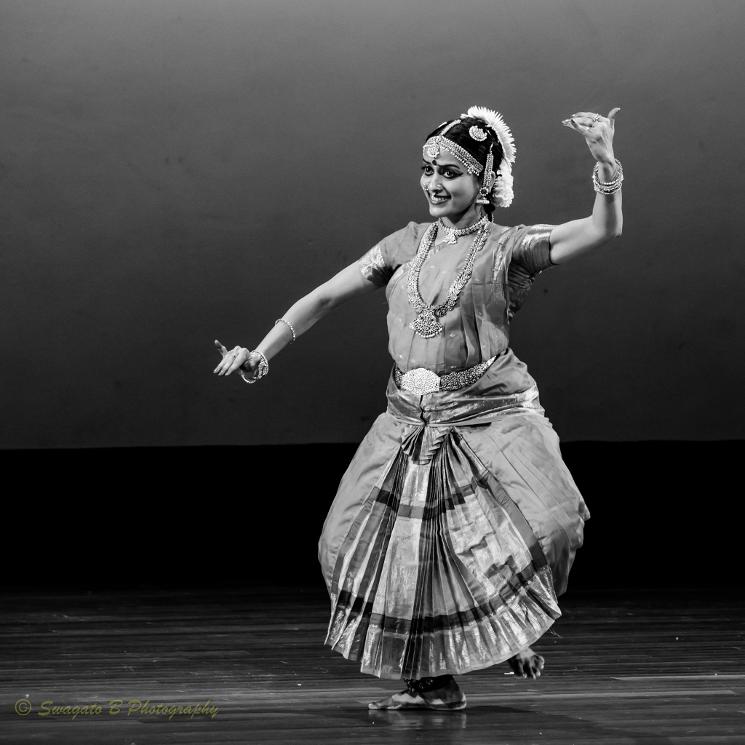 Bharathanatyam
Bharathanatyam is one of the oldest classical art form of dance originating from South India dating back over 2000 years. It is an ancient temple art form in which the dancer is considered as a worshiper of the Divine. It is well known for its sculpturesque beauty , grace & art of story telling. 'Bha-ra-tha-natyam' is the unique combination of the 'Bha' in Bhaavam – expressions and emotions, 'Ra' in Raagam – the melody or the music and the 'Tha' in Thaalam – rhythms to form the movement in dance which is described as 'the Natyam'.
This supreme art has an ethereal beauty in its exhibition and a great degree of sophistication. It mainly consists of depiction of mythological stories taken from Hindu scriptures and texts. Traditional Indian classical carnatic music is the basis of music for this sublime art which when combined with well co-ordinated movements in rhythmic set of patterns makes the Bharathanatyam repertoire an exquisite delight for the viewer and an ecstatic experience for the dancer.
It is also believed in ancient times in Hindu culture, a form of entertainment was encouraged to communicate to the common masses which they can clearly visualise and relate to. Thus the art of Bha-ra-tha-natyam to visually portray the depiction of stories along with graceful and rhythmic movements came into existence.
Copyright © Nrithyanivedhan.com 2010-2021 All rights reserved.