About my Guru's Guru
Guru Smt. Neela Balasubramanyam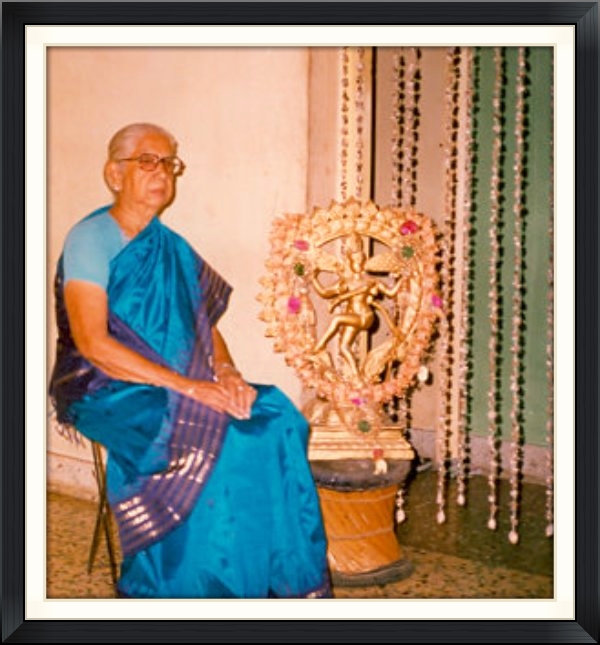 One needs to describe it as "Ageless Inner Beauty" to her teachings until her last years of life. Her enthusiasm in teaching at 80 the Sarukkal-adavu (a bharathanatyam terminology for a step which is the most difficult step to execute by any Bharathanatyam learner/dancer), her dedication and her passion of giving to this art form of Bharathanatyam is eternal.
Guru Smt. Neela Balasubramanyam (1912-1995) founder-director of the dance school Nataraja Natya Niketan, Chennai, was born to Smt. Gangammal and Sri. S. Narayana Iyer. She learnt the traditional format of Bharathanatyam in the pandanallur style & Kuchipudi from the then famous Dharma Chandrika Smt. Kadappai Lakshmiammal, who was also a Harikatha exponent. She was given the title 'Natya Nadiga Thilakam' by Vaimu Kodhanaayagi Ammal, the founder of Mahatma Gandhi Seva Sangam, Triplicane, Chennai, of which the Harikatha exponent late Saraswathy Bhai was the president in the early 1950's. In early 1950s for a few years successively Guru Smt. Neela Balasubramaniam's students danced at Kanaka sabhai of Chidambaram Temple, in the 1000 pillar's mandapam (aayirankaal mandapam) during Sri Patanjali Vyaagrapaada Utsavam in Kanakasabhai. It was arranged by Sri Sethuramalinga Dhikshitar and he was the one who gave the name 'Nataraja Natya Niketan' to her dance institution. Even now his brother and sons reside at chidambaram. Valli Malai Kuravanji, Paarijatham, SriAandal, Bhakta Ekanath are to name a few of her innumerous choreographic pieces which includes her own compositions for the songs and dialogues that were used for these dance dramas.
She was more into 'giving' to this art form than expecting. She has taught to kids from all walks of life from the rich and to the poor & needy. She has taught to women in those era of strict orthodoxism which prevailed in south India in early 1940's,1950's with the motive of women not intending to keep this as a profession of performing but to know & learn more about this art for its true value of worshipping the divine and to one's own enjoyment of the art praising the divinities!
She has taught her own sister - Guru Rajee Narayan (www.rajeenarayan.com) and her daughter - Guru Kalaimamani Meera Grimes who was a child prodigy in classical dance and a great Harikatha exponent. (http://www.masquism.com/Meera.html)

Source about Guru Smt. Neela Balasubramanyam was from her daughter Mrs. Meera Grimes (ipmeera@yahoo.com)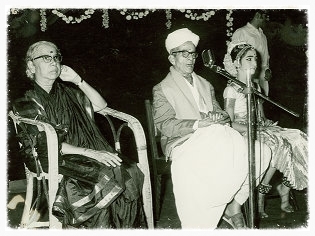 Guru Smt.Neela Bala Subramaniam with Prof. P.Sambamoorthy
(A great musicologist who has written many theories on music)
TRIBUTE TO A DYNAMIC ARTIST - Marking the birth centenary year celebrations of my ancestral Guru, Guru Smt. Neela Balasubramaniam. An article in the Indian Newspaper "The Hindu" about the Guru which was published dated January 19, 2012 -
Copyright © Nrithyanivedhan.com 2010-2021 All rights reserved.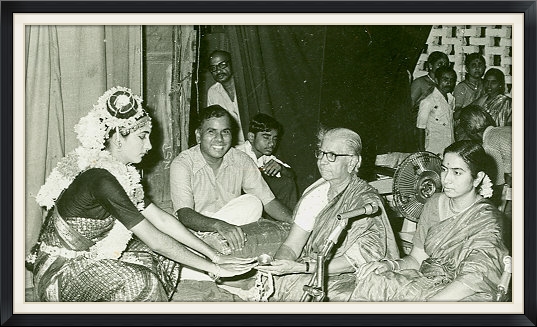 Guru Smt. Neela Balasubramaniam and her daughter Guru Meera Grimes.