"Maadhurya Shauryam"
SWEETNESS OF COMPASSION & EMPOWERMENT!
A benefit event held on March 26, 2016 for

Maitri.org

organized by Nrithyanivedhan School of dance.
Harshitha Venkatesh is the daughter/disciple of Bhuvana Venkatesh, the artistic director . Harshitha as a young dancer, wanted to combine her love for classical dance and her passion for empowering women to hold a benefit event for Maitri, a non-profit organization in Bayarea

(maitri.org - Helping women help themselves)

in March of 2016 at Sunnyvale theatre, CA.
She put her creative skills to help a cause that would benefit & empower the society! She raised

7000 dollars ( including ticket sales on the day of the event)

for the organization with this benefit event & it was gratifying for her to have made a difference in the community to give back with the art she loves to do!
Please visit Harshitha's website for further information about her as a dancer at - www.harshithav.com.
Harshitha with Maitri President Sonia Pelia at Maadhurya Shauryam event giving the funds raised through the benefit event to the non-profit organization.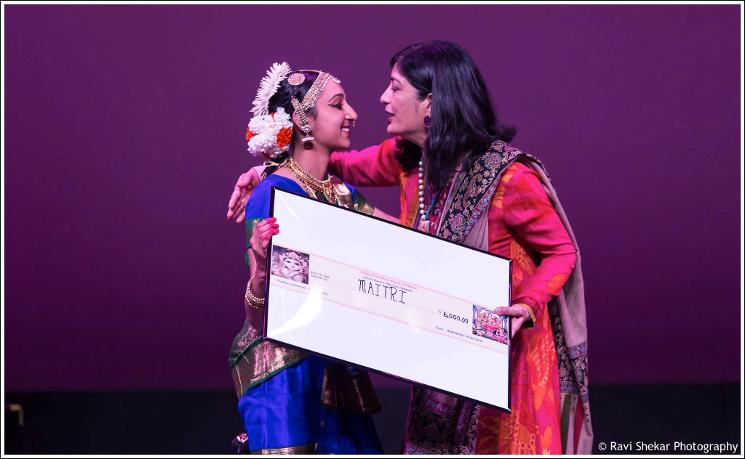 Review of the event " Maadhurya Shauryam "
In Thendral tamil magazine-
MAITRI President Sonya Pelia's speech at the " Maadhurya Shauryam" event!
PROMO video of the event - " Maadhurya Shauryam"
Benefit event speech for MAITRI at the event - March 26,2016