" DANCE IS FOR THE LOVE OF ART, A WAY OF LIFE AND AN ART OF LIVING!!"
Sadguru REMAJI
My guru's spiritual Guru, Founder of universal religion MASQUISM
My Guru's Bharathanatyam Guru birth centenary year celebrations
My Bharathanatyam Guru's 70th birthday
GURU VANDANAM
Salutations to Gurus - Sadguru Remaji, Guru Smt. Neela Balasubramaniam and Guru Prabha Nagarajan was held on March 17th,2012 on the occassion of my Guru Saahitya Siromani Prabha Nagarajan's 70th birthday at Shirdi Sai Parivaar in the bayarea ( Milpitas,CA) in a grandeur manner. It was a celebration of dance!
An ODE to my Guru for teaching me and passing it on to the next generation this invaluable art of Bharathanatyam.
- Bhuvana Venkatesh.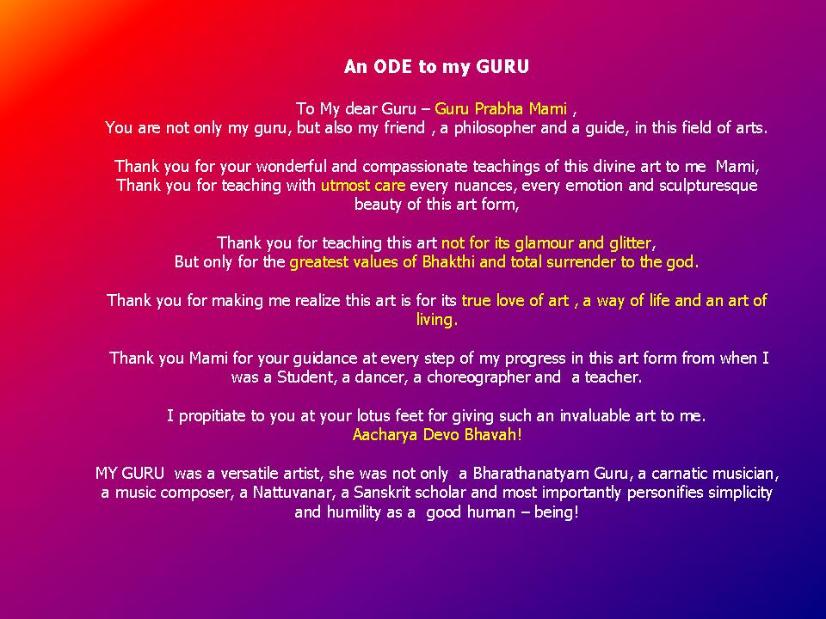 A report from the audience
GURU VANDANAM – SALUTATIONS TO THE TEACHER!
Nrithyanivedhan School of dance located in the evergreen area, San Jose founded by artistic director Bhuvana Venkatesh, presented their production GURU VANDANAM on March 17th, 2012 at Shirdi Sai Parivaar temple in Milpitas, CA.
GURU means teacher, the one that enlightens you (GU - darkness or the ignorance of the mind, RU –removal or driving away) and VANDANAM means salutations or offering. GURU VANDANAM was a celebration of dance on the auspicious occasion of Saahitya Siromani Mrs. Prabha Nagarajan's 70th birthday, guru of Bhuvana Venkatesh.
GURU VANDANAM started with Bhuvana Venkatesh talking a few words about her GURU, Saahitya Siromani Mrs. Prabha Nagarajan, and the invaluable gift of art that her guru bestowed on her. Apart from teaching the divine art of Bharatnatyam with utmost care of every nuance, emotion and beauty, Guru Prabha Nagarajan also passed on the message to love the art for the art, to be a way of life and an art of living. The mission of NrithyaNivedhan dance school is to spread this very message of "Dance is for the love of art, a way of life and an art of living! " Dance is also to offer oneself to god as a humble prayer through dance. Bhuvana Venkatesh also felicitated the lineage of gurus, Sadguru Remaji , founder of universal religion Masquism, spiritual Guru and Guru Neela Balasubramaniam, who are gurus of Mrs. Prabha Nagarajan. The program had performances by Harshitha Venkatesh (principle dancer, daughter/disciple of Bhuvana Venkatesh), Bhuvana Venkatesh, and budding dancers of the dance school. Many pieces performed in the program were in praise of Lord Krishna, Guru Prabha Nagarajan's most beloved god.
Harshitha Venkatesh started the program with the traditional Pushpanjali – offering of flowers to the gods in a pure stylized dance form and invocation to Lord Ganesha – the remover of all obstacles , followed by pure dance number - Jathiswaram choreographed by Guru Smt. Prabha Nagarajan.
The central piece of this program was the Varnam. Varnam (color) adds variety and vigor to any traditional Bharathanatyam repertoire with intricate and complex rhythmic footwork. The Varnam is based on a very rare composition of Guru Neela Balasubramaniam's father, Late Sri. S.Narayana Iyer. The composition is in praise of Goddess Devi, Simhendra Vahini, one who rides the lion as her vehicle. The "Sanchari Bhaavam", elaborated part of story telling, depicts a vivid portrayal of the war sequence between Devi and Mahishasuran, the egoistic Demon and the killing of the Demon, symbolizing the victory of good over evil. Varnam was set in Raagam Simhendra Madhyamam, Thaalam Adi, Composed by Sri S. Narayana Iyer, and it's a confluence of adavu compositions and choreography by Guru Meera Grimes, Guru Neela Balasubramaniam , Guru Prabha Nagarajan and Bhuvana Venkatesh. This was performed as a solo by the 12 year old Harshitha.
Varnam was followed by Kaavadi Chindu 'Nindrandha Mayil ' performed by Bhuvana Venkatesh. Kaavadi Chindu are lyrical compositions in Tamil and popular for their distinct rhythmic tempo, simplicity and melodious appeal. Nindrandha Mayil ondru, composed by Sri Oothukaadu Venkata Subbaiyer, is based on Lord Krishna with the message that one should find harmony/God within one-self and not let the mind wander. The song is set to Kanta Chapu thaalam and choreographed by Bhuvana Venkatesh.
This was followed by Harshitha Venkatesh's performance of "Sri Saraswathi Namosthuthe", in praise of the goddess of Art/Intellect and wisdom - Goddess Saraswathy, Sri Saraswathy Namosthuthe, composed by Saint Muthuswamy Dikshithar, is set to Raagam Arabhi and Aadhi Thaalam, choreographed by Guru Prabha Nagarajan. The dance recital's finale was a Thillana based on Kalinga Nardhanam, the chivalrous act of Lord Krishna quelling the deadly serpent Kalinga and dancing with his tender lotus like feet on the hoods of the serpent. The song is a composition of Saint Oothukaadu Venkata Subaiyer and choreographed by Bhuvana Venkatesh. Bhuvana Venkatesh also briefed that the song is about the ' quelling of the ego and arrogance' of the deadly serpent Kalinga by Lord Krishna in this encounter. The budding dancers of Nrithyanivedhan namely Nandhitha, Varsha and Navya performed a few numbers in praise of Lord Krishna, Lord Hanuman (Hanuman Chalisa) and Lord Murugan(Thiruppugazh). The program concluded with the traditional mangalam performed by the students of the school.
Guru Prabha Nagarajan was represented by her son and his family. As per the age old tradition of Guru Shishya Parampara, (the Teacher and the disciple). Bhuvana Venkatesh felicitated and expressed her gratitude to her guru with the traditional offering of Guru Dhakshina (repaying your teacher). Apart from enjoying the beautiful dances, the audiences were heartened to witness the age old tradition of Guru Bhakthi (salutation and devotion to the teacher) being practiced and passed down to the future generation.

About the Artistic Director
Bhuvana Venkatesh is the founder and the artistic director of Nrithya Nivedhan school of dance. Bhuvana Venkatesh is a dancer, choreographer and teacher. She has learnt the art form from Saahithya Shiromani Guru Smt. Prabha Nagarajan starting at her tender age of 5. She has widely performed in the various cultural centers and in dance festivals in India and US. She considers this art deeply spiritual. Bhuvana has imbibed her Guru's technique and style of choreography which involves intricate and rhythmic footwork characteristic of the traditional Pandanallur style in her choreographic works. She integrates the ancient hindu temple's structuresque poses and movements known as Karanas in her new choreographies.
She has been teaching her daughter/disciple from 2005 till date and other students in the Bayarea from the year beginning of 2010. She teaches with a religious spirit to those who pursue this art form with a serious and sincere approach. She firmly believes that Dance is for the love of art, a way of life and art of living!
- Madhumati Krishnan.
GURU VANDANAM - Event's Intermission Speech video
Guruvandanam to Guru Smt. Prabha Nagarajan by Bhuvana Venkatesh
Kaavadi chindu are lyrical compositions in Tamil. They are popular for their distinct rhythmic tempo, simplicity and melodious appeal. I particularly chose this Kaavadi chindu to perform , as it is in praise of Lord Krishna, who is both my Guru's and my favourite GOD or Ishta Deivam. It beautifully portrays how the peacock dances , the bees buzzes around in merry and the cows fan the Lord Krishna with their tails when Krishna melts the hearts of these creatures with his lilting tunes. There is also a higher lyrical content in one particular line in this song -- ' ANGE INGE ENDRU ALAIYADHE MANAME.. AAZHNDHU PAAR UN ULLE BRINDAVANAME ' -- Oh mind, please do NOT WANDER HERE and there for other desires, the joy of ( real Brindavan i.e the happiness) is found with in one-self. For those who praise lord Krishna , there is no doubt that the happiness is realized on its own. Please find that inner beauty.
The desires shown here in the line 'Ange Inge endru alaiyaadhe maname' are the wealth acquired greedily, Para Sthree - desire for other women in life other than one's own wife, Drinking and gambling. These are the 4 desires described in Bhagavatham as the effect of Kali where Kali dwells in such places in Kali yugam. This is described in Chapter 17 of Canto 1 in the great Hindu Scriptural text - Srimad Bhagavatham. So please avoid in such acts and find that inner peace by chanting the holy name of Krishna - Radhe Shyam, Radhe Mukundha, Govindhaaa...Mukundhaaaa!!! It is a great composition of Sri OOthukaadu Venkata subbaiyer. Kaavadi Chindu --in Kanta Chapu thaalam - Nindrandha Mayil ondru.
It is my humble salutations to my Guru as GURU VANDANAM on the occasion of my Guru Smt. Prabha Nagarajan's 70th birthday.
The great composers have written with so much devotion to the lord , the choreographers only super impose images to what these composers have already visually choreographed out of their Bhakthi or devotion to god.
This performance is done after a period of inflammation in the legs and the feet , if for any reason It is seen during the performance, humble apologies for the same.
- Bhuvana Venkatesh,
Artistic Director, Nrithyanivedhan School of Dance.
Copyright © Nrithyanivedhan.com 2010-2019 All rights reserved.