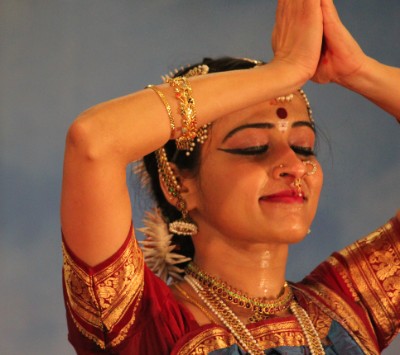 Style of Choreography
Bhuvana
has imbibed her Guru's technique and Style of Choreography which involves intricate and rhythmic footwork characteristic of the traditional Pandanallur style in her choreographic works.
Encouraged by her own Guru Smt. Prabha Nagarajan and her keen interest and enthusiasm in learning the 108 Karanas as codified in the book 'Karanas' by the legend Dr. Padma Subramaniam
gave her the motivation and freedom in integrating the Karanas along with the pandanallur style in her new choreographic works. She greatly reveres the legend Dr. Padma Subramaniam and considers her to be manasika Guru. She has also got trained in the basic elements of Karanas like the Charis , Sthanas , the Hastha Karanas and a complete Bharathanrithyam repertoire from Guru Smt. A.Vadivu Devi who was a disciple of Dr. Padma Subramaniam.
Karanas are basic units of dance which are movements and not just Sculpturesque poses, taken from the past centuries based on the the ancient temple architecture commonly found across temples from South India.
Bhuvana Venkatesh receiving the City of San Jose's Commendation award from the honourable Mayor - Sam Liccardo and council member Sylvia Arenas, City of San Jose, CA, USA on October 13, 2017 at Evergreen community center in the below picture.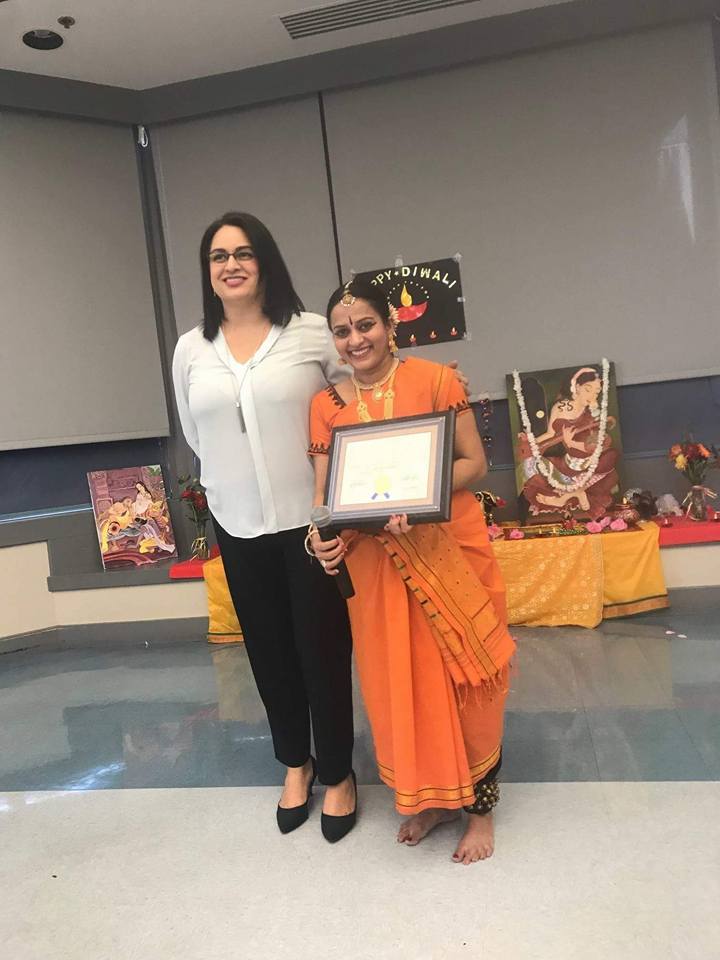 Picture of City of San Jose's Commendation award below -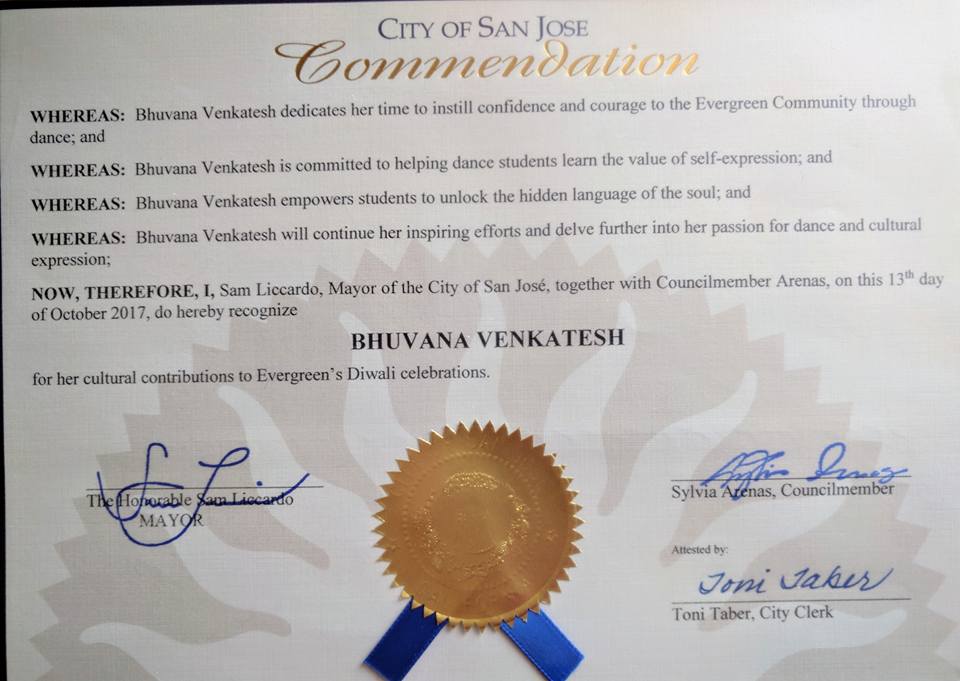 Copyright © Nrithyanivedhan.com 2010-2023 All rights reserved.
Bhuvana Venkatesh is the founder and the artistic director of Nrithya Nivedhan school of dance which aims at propagating the art form of Bharathanatyam to be very sacred and divine. She is a dancer, choreographer and teacher.

She has learnt the Bharathanatyam dance format from 'Saahithya Shiromani' Guru Smt. Prabha Nagarajan starting at her tender age of 5. She gave her solo debut performance in 1986 at Mylapore Fine Arts Academy, Chennai, India. She has widely performed in the various cultural centers and in dance festivals in India as well as in the US where she is currently residing. She also firmly believes that Bharathanatyam is a great classical art form which manifests its true beauty through the offering of oneself to god as a humble prayer and considers this art deeply spiritual.
During her years of undergraduation, she has trained over a 100 dance students taking care of her Guru's dance institution named Lalitha Kala Nilayam in Chennai, India when her Guru migrated to the US then. She was a software engineer by profession at Wipro in India and later at IBM , Silicon Valley for over a decade and has now moved onto making her passion of dancing and teaching dance into her mainstream.
She has choreographed more than 100 traditional Bharathanatyam dance repertoire items over the past 15 years amidst her engaging and demanding lifestyle. Her dance students has performed at more than 75 cultural events at presitgious venues in and around the Bay Area in the past decade.
Teaching with passion and a motto
Bhuvana has been teaching her daughter/ disciple from 2005 till date and other students in the bayarea from the year beginning 2010. She teaches with a religious spirit to those who wants to pursue this artform with a serious and sincere approach. Her dream is to make every student a beautiful dancer to understand the nuances, the rhythm, the beauty and the aesthetics behind this divine art form. Dance is for the true love of art, a way of life and an art of living!
She also believes in a strong work ethic, commitment, holistic approach to learning dance that incorporates the mental and physical well being of the learner for divine articulation through the medium of Bharatanatyam!
Her students showcase the artform with much grace, precision and agility. They have received accolades for their neat and lucid execution of their skills in various art organizations and from the rasikas/audience.
Guru Bhuvana to add to her skills is also currently learning the artform of Odissi dance beginning from the Pandemic year 2020 under Guru Smt. Niharika Mohanty of Guru Shradha Odissi organization in the bayarea.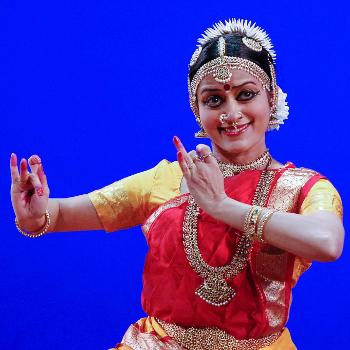 Bhuvana Venkatesh's Yuvabharathi performance in 2015 -